Cholesterol, every one has it.
But do you use it on your hair?

My hair is so dry and would not hold color. Yes I have to
color my hair. It lightens up to a ugly blond, so I darken it.

One of my interns at work told me about putting cholesterol
on my hair to bring the shine back and condition it.

After the 1st treatment, I could tell the difference and so did my
co-workers. This works better that any high dollar conditioner
you can buy and I have purchased many different kind.

Shampoo your hair, towel dry. Rub the cream in your palms
and them work into hair. Heat a small wet towel in microwave,
wrap head and cover with a vinyl shower cap (holds in heat).
After 30 mins rinse hair really good with warm water.

Do this twice a week and once hair is better, then
once a week. Directions on the back of the container.

Purchased mine at Sally's Beauty for $3.29.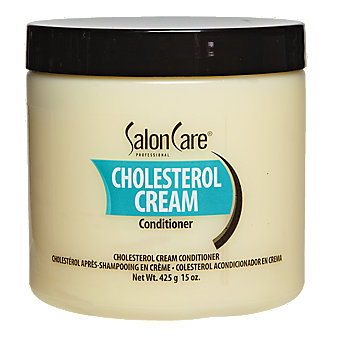 Cholesterol Cream
Give it a try, you will not be disappointed.
"as I type this, I'm doing my second treatment"
Happy cholesterol to you !
~ Cheryl ~